Bairro Feliz – Pingo Doce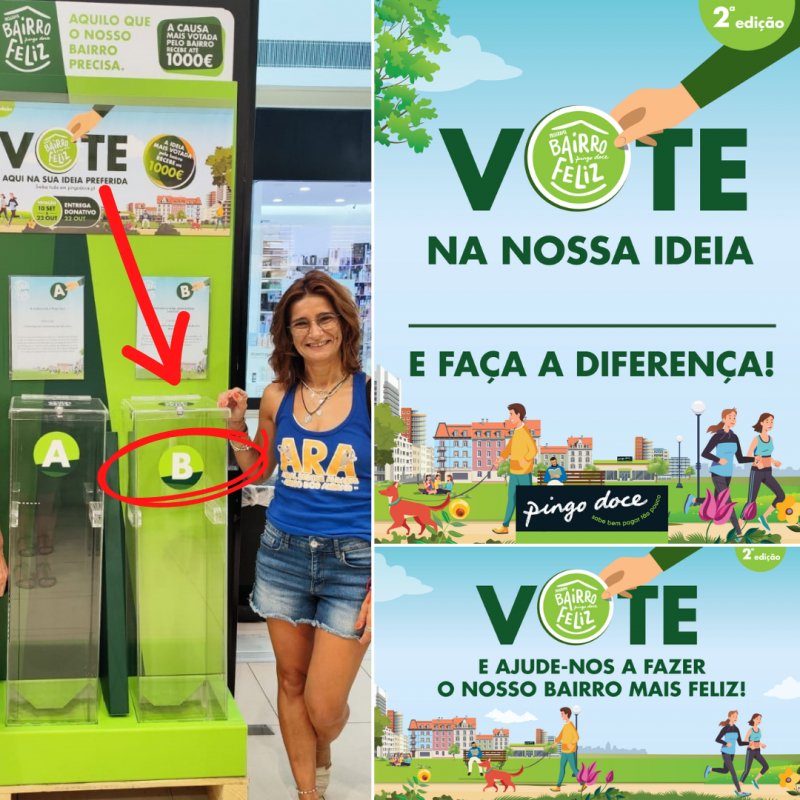 Our cause "𝗤𝘂𝗲𝗺 𝗮𝗺𝗮 𝗽𝗿𝗼𝘁𝗲𝗴𝗲 𝗽𝗿𝗼𝘁𝗲𝗴𝗲, 𝗾𝘂𝗲𝗺 𝗽𝗿𝗼𝘁𝗲𝗴𝗲 𝗲𝘀𝘁𝗲𝗿𝗶𝗹𝗶𝘇𝗮!" is one of the finalists of the Bairro Feliz initiative and needs your help to make it happen.
𝗧𝗼 𝗵𝗲𝗹𝗽 𝘂𝘀, 𝘀𝗶𝗺𝗽𝗹𝘆 𝗽𝗹𝗮𝗰𝗲 𝘁𝗵𝗲 𝗕𝗮𝗶𝗿𝗿𝗼 𝗙𝗲𝗹𝗶𝘇 𝗖𝗼𝗶𝗻 𝗳𝗼𝗿 𝗼𝘂𝗿 𝗰𝗮𝘂𝘀𝗲 𝗶𝗻 𝘁𝗵𝗲 𝘃𝗼𝘁𝗶𝗻𝗴 𝗽𝗶𝗴𝗴𝘆 𝗯𝗮𝗻𝗸 𝗕 𝗮𝘁 𝗣𝗶𝗻𝗴𝗼 𝗗𝗼𝗰𝗲 𝗮𝘁 𝗠𝗮𝗿 𝗦𝗵𝗼𝗽𝗽𝗶𝗻𝗴 𝗳𝗿𝗼𝗺 𝟭𝟬 𝗦𝗲𝗽𝘁𝗲𝗺𝗯𝗲𝗿 𝘁𝗼 𝟮𝟮 𝗢𝗰𝘁𝗼𝗯𝗲𝗿.
"There are no homes for everyone, neutering is the solution, an act of love and protection"
Medical-veterinary care is one of our shelter's biggest expenses. Considering the excess animal population, the only solution is sterilization, in addition to the advantages in health and socialization allows controlling the birth rate and increasing the average life expectancy. With the value of the Bairro Feliz premium, we could sterilise several animals, saving all this value that can be used in other veterinary expenses.
𝗔 𝗴𝗲𝘀𝘁𝘂𝗿𝗲 𝗳𝗿𝗼𝗺 𝘆𝗼𝘂 𝗰𝗮𝗻 𝗺𝗮𝗸𝗲 𝗮𝗹𝗹 𝘁𝗵𝗲 𝗱𝗶𝗳𝗳𝗲𝗿𝗲𝗻𝗰𝗲.