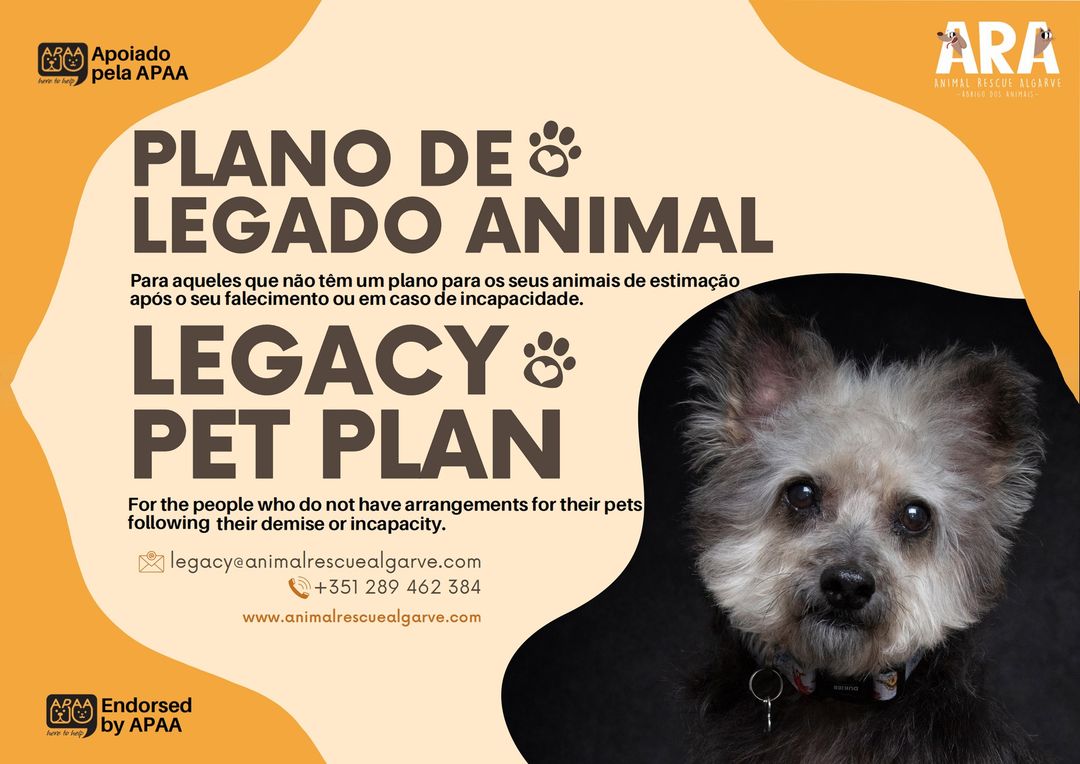 𝐖𝐡𝐞𝐧 𝐢 𝐩𝐚𝐬𝐬 𝐚𝐰𝐚𝐲… 𝐰𝐡𝐚𝐭 𝐰𝐢𝐥𝐥 𝐡𝐚𝐩𝐩𝐞𝐧 𝐭𝐨 𝐲𝐨𝐮, 𝐦𝐲 𝐟𝐚𝐢𝐭𝐡𝐟𝐮𝐥 𝐟𝐫𝐢𝐞𝐧𝐝?
For the people who do not have arrangements for their pets following their demise or incapacity.
If your dog or cat is part of your family, you should be sure that there is somebody trustworthy to take care of your animal! Leaving it in an overcrowded or on understaffed municipal canel should never be an option.
Alternatively, if you register and accept our Legacy Pet Plan, we will welcome your paw-friend into ARA, probably the best animal shelter in Portugal, where we've a large live-in ratio of staff & volunteers and a restricted number of animals.
We want to garantee the best life to all animals in our care, so our facilities include 14 park areas, with pools, apparatus and sand pits, and all dogs are walked twice a day. We invite you to look at some of the videos on our website, or better still, come and visit us. We also have excelent facilities for cats. Approximately 30% of our animals are monthy rehomed to carefully selected families.
The Legacy Pet Plan doesn't have a standard cost but we appeal to your charity.
We would ask you to consider leaving us a legacy in your will or make a one-off or even standing order donation. Although, this is not a requirement.
Our shelter relies entirely on donations to fund good quality and vital services and facilities such as surgery, superior kennels/cattery, lifesaving medical treatment. All we wish is to give them the best animal welfare you could wish for.
If you are interested in obtaining more information
Please contact us:
𝐇𝐨𝐰 𝐭𝐨 𝐛𝐞𝐜𝐨𝐦𝐞 𝐚 𝐋𝐞𝐠𝐚𝐜𝐲 𝐏𝐞𝐭 𝐏𝐥𝐚𝐧 𝐂𝐚𝐫𝐝𝐡𝐨𝐥𝐝𝐞𝐫
𝐂𝐡𝐨𝐨𝐬𝐞 𝐲𝐨𝐮𝐫 𝐏𝐞𝐭 𝐆𝐮𝐚𝐫𝐝𝐢𝐚𝐧
Your Pet Guardian can hand your pet over to us if you are no longer able to do it.
Make sure it's someone you trust, such as a friend, family member or solicitor.
Ask them before you apply as we will need their contact details.
You should leave instructions for them to take care of your pet until contact us.
If necessary we can also collect your pet when we are contacted.
𝐏𝐞𝐭 𝐈𝐧𝐟𝐨𝐫𝐦𝐚𝐭𝐢𝐨𝐧
We will need all the information regarding the Pet: health book, medical
conditions, name and contact of the vet, behavioural tendencies and what they
like and dislike.
𝐌𝐢𝐜𝐫𝐨𝐜𝐡𝐢𝐩 𝐍𝐚𝐦𝐞 𝐂𝐡𝐚𝐧𝐠𝐞
It's essencial to have the microchip number and to leave instructions with the Pet Guardian to change it to ARA name, if this is not done we cannot take your pet into our association.
𝐋𝐞𝐚𝐯𝐞 𝐈𝐧𝐬𝐭𝐫𝐮𝐜𝐭𝐢𝐨𝐧𝐬 𝐈𝐧 𝐘𝐨𝐮𝐫 𝐖𝐢𝐥𝐥
Please confirm your wishes in your wil to help ensure they are carried out. We suggest wording, "It is also my wish that ARA wil take care of my pet and/or rehome them when I am no longer here for them".
Be sure to leave instructions for the microchip change. There are no costs associated, but we hope you wil include us in your wil so that we can continue the good work we do for animals.
Contact Us To Fill The Form
Contact us if you are interested in registering as a Legacy Pet cardholder, we wil send you the application form to complete, remember, to have with you al the information about the pet guardian you have chosen and your pet microchip number.
If you have any questions we wil be happy to answer them for you.
When we receive the form we wil deliver the card, just fil in the details and put it in your wal et or purse with your other cards, so it can be easily found.
𝐎𝐧𝐜𝐞 𝐘𝐨𝐮 𝐁𝐞𝐜𝐨𝐦𝐞 𝐚 𝐀𝐑𝐀 𝐏𝐞𝐭 𝐋𝐞𝐠𝐚𝐜𝐲 𝐂𝐚𝐫𝐝𝐡𝐨𝐥𝐝𝐞𝐫
From now on you have our card and your pets wil be safe even if you are no longer
here for them.
We wil do everything so that they are adopted by a family that wil give them the life they deserve.
Thank You For Trusting Us
Thank you for trusting us and al owing us to help your pet find a new family and a new life when you are no longer here for them, we wil surely find someone to make them
happy.
We also rely on your generosity to continue helping al the animals in need.